Benefits of Cable Railing
Adding a cable railing system to your home or business opens up a feeling of space, allowing an unobstructed view of your surroundings, similar to glass. Perfect for decks with scenic mountain views, a home on the lake or prairie, they can even add a feeling of spaciousness to cramped city life.  However, unlike glass, your cable decking will never need cleaning or polishing, nor will it require the regular staining and painting that traditional wood decking systems have need of.  Cable railing is designed to be durable and require minimum maintenance.
Wire Rope Construction for Cable Railing
Our wire rope for construction applications comes in two different construction types. Our  1X19 (19 of a single wire) has a shiny appearance and is made to be durable and resistant to abrasion. Our 7x19 (19 bundles of 7 wires) has more of a "rope" appearance and is not resistant to abrasion.


Materials Used in Cable Railings
316 stainless steel is the most commonly used material in our wire ropes for cable railings.
Hand Swage and Machine Swage Cable Railing Parts
Swaging is another term used for "crimping". Hand swage parts can be crimped on with a specialized hand crimping tool, we offer various hand crimping tools, such as the SST-3 (seen below).  Hand-swaged parts, if crimped perfectly, will hold up to 60% of the cables breaking strength.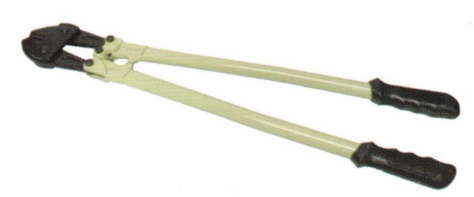 Note* In our catalogs, "HS" stands for Hand Swage, and "MS" stands for Machine Swage.
Pros and Cons of Hand Swaging and Machine Swaging
Hand Swaging
Pro: You can cut the wire yourself, guaranteeing you have the correct measurements and can save time during the process
Con: This process doesn't look as good and doesn't hold to breaking strength. Also, you will most likely throw away parts while you learn to use the swaging tool correctly.
Machine Swaging
Pro: Your railings will have a clean and uniform appearance and each railing will hold to the breaking strength of the wire. They will also arrive ready to install.
Con: If the measurements provided are not 100% accurate, the railing will be unusable. The structure may bend as the railing is tightened, and the required measurements for the top cables could change. Lastly, the process is much more costly.
Cable Railing Part Sizes
We offer three different cable railing part sizes.
1/8" T316

Breaking Strength of 1900 lbs (Pulls out around 1140lbs with hand swage)

3/16" T316

Breaking Strength of 3600 lbs (Pulls out around 2160 lbs with hand swage)

1/4" T316

Breaking Strength of 6400 lbs (Pulls out around 3840 lbs with hand swage)
Cable Railing Safety
Like all other railing systems, safety is a top priority. Specific requirements must be met for a railing to be deemed safe. Two types of cable railing requirements must be met. One is the International Residential Code (IRC), and the other is the Local/City/State Codes.
Other codes and requirements that should be followed are Load Requirements, Sphere Rules, Handrail and Guardrail Height Requirements, Spacing, Proper Tension, and more.
We recommend you contact local code officers first before starting any projects.
4-Inch Ball Test
The 4-Inch Ball Test can help prevent toddlers from getting their heads stuck in railings by testing the size of the gaps between the railings. The test involves attempting to pass a 4-inch diameter ball through the gaps between the railings to determine if a child's head could become trapped. If the ball cannot pass through the gaps, then it is likely that a child's head would not be able to either, reducing the risk of injury. This test is often used in building codes and regulations to ensure that railings are constructed with appropriate gaps to prevent such accidents.