Tyler Madison specializes in the manufacture of custom wire rope lanyards (also commonly known as cable assemblies or flexible cable assemblies) for our customers.  At their core, these lanyards connect two objects together.  There are an infinite number of uses for them, but the most common are: security, holding, hanging, attaching, anchoring, lifting, supporting, and pulling.
Our customers have used our wire rope lanyards in many different ways.  A partial list of the industries we have served (with their use of our lanyards in parentheses) follows:
Promotional displays (hanging of signs)
Hard shell cases (lid restraint)
Display cases (lid restraint, shelf support)
Retail Security (security cable for electronics, clothes, expensive manuals, etc.)
HVAC Heating and cooling duct work (support lanyards for ducts and pipes)
Material Handling (hanging support lanyards, pulley cables)
Specialized vehicles (security lanyards for release pins, lid restraints)
Lawn and garden equipment (security lanyards for release pins, lid restraints)
Seats (seat restraint lanyard)
Tailgates and Doors (latch lanyard, support lanyard, door restraint)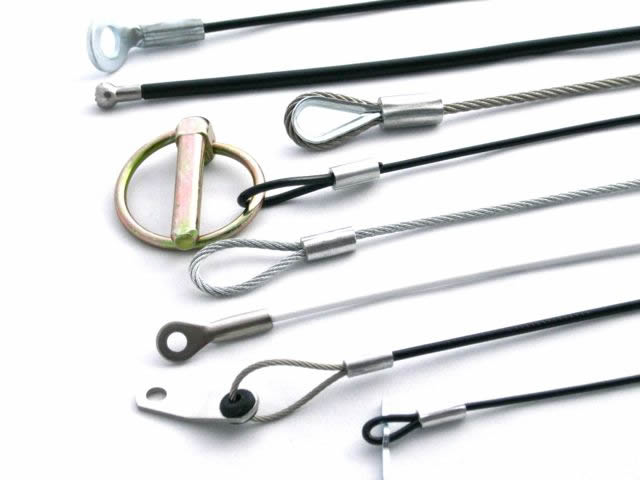 Tyler Madison specializes in small diameter lanyards and cable assemblies or flexible cable assemblies ¼ inch diameter and under.
When thinking about wire rope cable lanyards, there are a number of options to consider:
Cable Material: galvanized steel or stainless steel
Cable Construction: typically these assemblies are made of 7 x 19 (most flexible), 7 x 7, or 1 x 19 (least flexible) cables
Cable Coating: No coating, Nylon, Vinyl (PVC), or Pebax; black, white, and clear coatings are the most popular, but just about any color can be chosen
Length: there really is no minimum or maximum length, just let us know for your application
Ends Fittings or Terminals: we have a large selection of end fittings, including balls, ball shanks, sleeves, stamped eyes, stops, thimbles, handles/knobs, stops, strap forks, strap eyes, and threaded studs. Others fittings are available as well.
Hardware: if your application includes hardware, let us know what type. We can add almost any type you need.
Let us know your needs for a wire rope lanyard; we love to hear new ideas and making them work. Send us a drawing of the wire rope lanyard you are looking to create.  Or call us 1-888-638-3604 to discuss your unique application.
About Us
Tyler Madison is your #1 source for wire rope cable assemblies. Our industry-leading manufacturing technology results in quality products that suit your application and remain durable throughout their lifetime. Our design and engineering team is able to assist you when you need a custom wire rope product that matches a particular set of specifications. Along the way, we're always available to answer questions and give you advice about your cables.
Value Added Services
One reason that so many people keep coming back to Tyler Madison Inc. for their wire rope assemblies and cables is because of the excellent value added services that we offer. These include:
Design Assistance
Coiling and Packaging
Hot stamping part numbers
Pull testing for cable strength
Fuse Cutting
Cable Rewinding
Lean Manufacturing
Kitting
Just-in-time (JIT) Programs
Kanban Programs