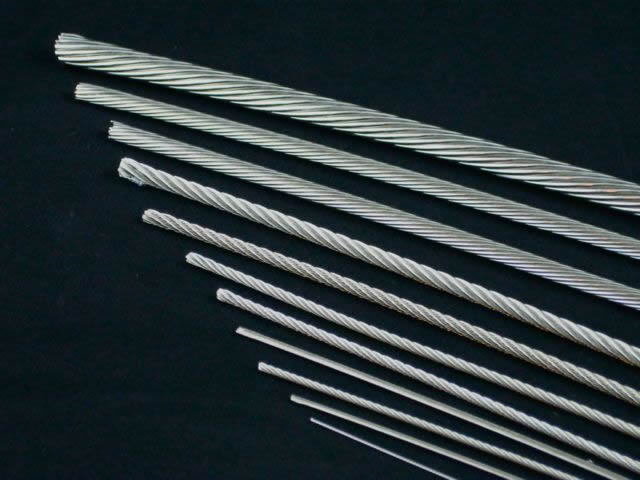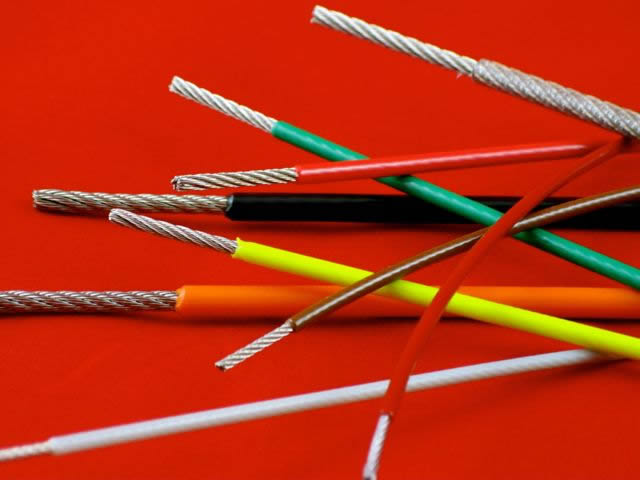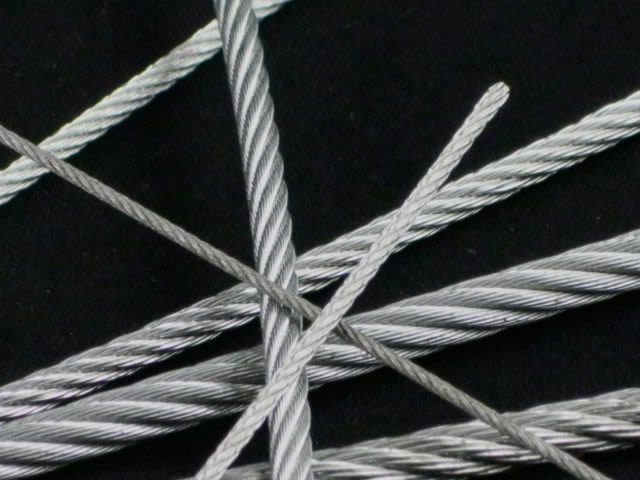 7 x 7 Wire Rope and Steel Cable
   7 x 19 Wire Rope and Steel Cable
   1 x 19 Wire Rope and Steel Cable
Cable Braid Type

1 x 19 - Non-Flexible. Good for applications needing a inner cable in a push pull cable. Also, used as a guy wire and for sail boat rigging.

Cable Length

Any Length Available

Cable Material

Stainless Steel, Galvanized Steel

Coating Materials

PVC, Nylon in various colors

Break Strength Chart

| | |
| --- | --- |
| Bare Cable Diameter | Minimum Break Strength |
| 1/16" | 500 lb |
| 3/32" | 1200 lb |
| 1/8" | 2100 lb |
| 5/32" | 3300 lb |
| 3/16" | 4700 lb |
| 1/4" | 8200 lb |

Warning: Do not exceed safety factors for cable breaking strength capacity.

End Fittings Available

Ball Shanks, Balls, Handles & Knobs, Sleeves, Stamped Eyes, Stops, Strap Eye, Strap Fork, Thimbles, Threaded Studs
Our stainless-steel aircraft cable consists of thin steel wires that are stranded together to give the cable a combination of flexibility and strength. Although the largest diameter of aircraft cable available at Tyler Madison maxes out at a ¼", it is lightweight and strong enough to meet special airline safety standards.
Commercial quality "aircraft grade" cable is made from galvanized steel wire or stainless steel wire. Galvanized aircraft cable provides high tensile strength and adequate corrosion resistance for most commercial applications. Stainless steel avionics cable provides slightly lower tensile strength, but greater resistance to corrosion. We also offer aircraft cable fitting services.
Cable or wire rope is fabricated from individual wires put together in a uniform helical arrangement to form what is called a strand. A strand typically contains 7 wires (1 x 7) or 19 wires (1 x 19), although others are available. Cable or wire rope contains a varying number of these strands such as 7 x 7 and 7 x 19 (number of strands x wire per strand). The more strands and more wires per strand, the more flexible the cable and the higher the cost. The greater the cable diameter, the greater the diameter of each wire and the greater the breaking strength.
Our aircraft cable for sale can be coated with a number of different plastics such as vinyl (PVC) or nylon in various colors. Black, clear and white are typical stock colors, other colors can be ordered. Also, other polymers are available for braided steel cable.
Military Specifications-Cable also available to Mil-W-83420.
Airplane cable is used for more than just aircraft applications. It's strength and flexibility make aircraft braided steel cable perfect for numerous commercial and industrial uses. Stainless steel aircraft cable is typically used in areas where the components are exposed to oxidative chemicals such as salt, and the ability to resist corrosion is crucial. Galvanized aircraft cable is a more affordable solution, but it does not resist corrosion as well.
About Us
At Tyler Madison Inc., aircraft cable assemblies are just one of the many quality wire rope products that we manufacture for our industrial and commercial customers. We have the ability to create fully customized cable assemblies with standard or custom aircraft cable fittings. With skilled labor and precise advanced equipment, we are able to manufacture quality aircraft wire ropes and high-strength cables at an affordable price. Along the way, we can help you design and engineer aircraft cable fittings for your application. If you have an idea of what kind of aviation cable assembly or wire rope you need, but aren't sure how to make it a reality, just contact Tyler Madison today and we will be ready to help!
Value Added Services
We are committed to providing our customers maximum value when they choose to do business with us, whether it's custom aircraft cables, metal cables or standard braided steel cable. That's why we go above and beyond with our customer service and offer value-added services to ensure the quality of our products and the satisfaction of our customers. These services include:
Design Assistance
Coiling and Packaging
Hot stamping part numbers
Pull testing for cable strength
Fuse Cutting
Cable Rewinding
Lean Manufacturing
Kitting
Just-in-time (JIT) Programs
Kanban Programs
No matter how customized the cable, wire rope or aircraft cable fittings for your application needs to be, we are more than capable of helping you get the job done!
For more information or inquiries about our wire rope or aircraft cable fittings, get in touch with us today. Our team of experts are here to answer any of your questions. We look forward to hearing from you!