Mechanical wire rope cable assemblies are used in many different industries in any number of ways.  Generally, cable assemblies have an end fitting at each terminal, which connects the cable to an object.  Typical applications include:
Adjusting
Braking
Connecting
Containing
Controlling
Cycling
Hanging
Lifting

Pulling
Pushing
Reeling
Regulating
Restraining
Retrieving
Rotating
Securing

Sliding
Steering
Stopping
Supporting
Suspending
Tension
Winding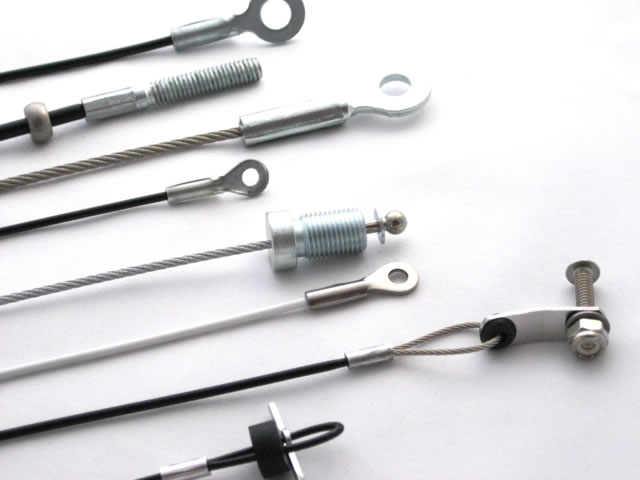 Each use for a custom wire rope cable assembly has its own unique purpose.  We can assist you in designing a cable assembly to fit your specific needs.  First take a look at our Cable Assembly Design Considerations. Then give us a call.  Tyler Madison, Inc. specializes in cable size from 3/64" - 3/8" in diameter and 270 lbs. - 14,400 lbs. in breaking strength.  We will put our years of experience to work in helping you design and produce exactly what you need.  We have manufactured quality custom cable assemblies for leading companies in the following industries:
Aerospace
Aircraft
Appliances
Automotive
Boating
Electronic
Furniture
Farm Equipment

Lawn & Garden
Lighting
Machinery
Medical
Security
Sporting Goods
Toys
Windows
When thinking about wire rope cable lanyards, there are a number of options to consider:
Cable Material: galvanized steel or stainless steel
Cable Construction: typically these assemblies are made of 7 x 19 (most flexible), 7 x 7, or 1 x 19 (least flexible) cables
Cable Coating: No coating, Nylon, Vinyl (PVC), or Pebax; black, white, and clear coatings are the most popular, but just about any color can be chosen
Length: there really is no minimum or maximum length, just let us know for your application
Ends Fittings or Terminals: we have a large selection of end fittings, including balls, ball shanks, sleeves, stamped eyes, stops, thimbles, handles/knobs, stops, strap forks, strap eyes, and threaded studs. Others fittings are available as well.
Hardware: if your application includes hardware, let us know what type. We can add almost any type you need.
For more information on specific types of custom wire rope cable assemblies, take a look at these pages:
Quality Cable Assemblies
Tyler Madison is an industry leading manufacturer of wire rope cable assemblies. Our knowledge and experience give us the capability to manufacture standard and custom wire rope products for a variety of industrial clients. With in-house engineering and design services, you can get the exact kinds of products that you are looking for from one place at an affordable price. Call us today to find out what we can do for you!